DCH Coronavirus Update 2-24-21
Time to Reflect
Caring for the injured and sick can be very difficult physically and mentally. Seeing someone recover after helping them through a long, tough battle with an illness can be incredibly rewarding. Losing someone after every effort and prayer can be discouraging and disheartening. It takes a special mix of compassion, knowledge, determination and personal resilience for caregivers to find peace and fulfillment in their work.
One local couple knows, perhaps more than most, what a healthcare career takes. Doctors Ronald (Terry) and Linda Olivet have both spent much of their lives caring for others. Terry Olivet spent his career working as a cardiovascular surgeon. Linda Olivet, who has a doctorate in nursing, has spent much of her career teaching generations of nurses. Both have served on the DCH Health System Board of Directors and Linda is still on the board. While both are retired, they are still highly active in donating their time to building up the community.
In January, the University of Alabama had a ribbon cutting for the expansion of its Capstone College of Nursing (CCN). When the Olivets first heard about the project they knew they wanted to contribute in a meaningful way.
Not long after that Anita Hamlett, development director at CCN, approached the Olivets with the idea of helping to provide funding associated with the naming of a Meditation Labyrinth. Labyrinths have been used for thousands of years for meditation, reflection, and refreshment. Anita was not aware that would have a special meaning to Linda.
After the 2011 Tuscaloosa tornado, Linda and Terry had worked for weeks at the Red Cross shelter for displaced families. Post-tornado days were very stressful for the whole community and for individuals as well. About a year later Linda took a weekend retreat to process all that had occurred during that time. Part of that experience included walking a labyrinth several times. Anita's proposal was the right way for Linda and Terry to be a part of the latest growth of the college. Additionally, the labyrinth is a memorial to all those we have lost in healthcare and a celebration of those who answer the call to help others. The plaque specifically mentions Marilyn K. Mitchell, one of Linda's nursing students whose life came to a tragic end shortly after her graduation.
The labyrinth is right across University Boulevard from DCH Regional Medical and the space is available for anyone who wishes to use it to remember, reflect, be quiet and refresh the spirit after the stress of work, the stress of tragic loss and the challenges of daily life. "In this time of COVID, perhaps some will find it helpful and refreshing just to go there for a little while. I hope so," said Linda. "Each time I walk it, I find a better way to 'be still and know.'"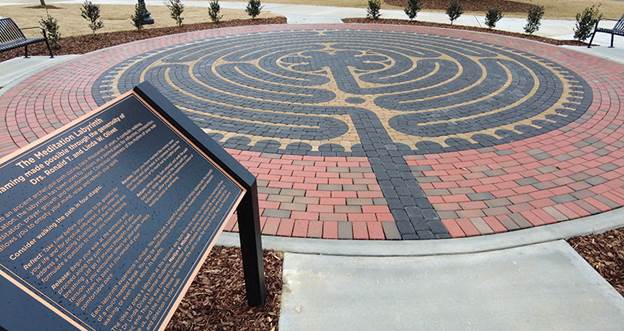 COVID-19 Information
To protect patient privacy, DCH has established a minimum threshold of five for reporting numbers of inpatients with laboratory-confirmed cases of COVID-19.
DCH Health System internal counts as of 3:01 p.m. on 2/24/21:
41 inpatients within the DCH system who are positive for COVID-19.
7 inpatients who are positive for COVID-19 are being treated in the ICU.
Five or fewer who are positive for COVID-19 are on ventilators.
Five or fewer who are positive for COVID-19 are on a BiPAP.
8,407 (cumulative) unique positives for COVID-19 tests including results from the ED, triage tent and inpatient. These individuals are not necessarily in the hospital.
37,455 (cumulative) unique negatives for COVID-19 at DCH sites.
10,161 (cumulative) positive COVID-19 at DCH sites. These individuals are not necessarily in the hospital.
68,817 (cumulative) negative tests at DCH sites.
2,870 inpatients (cumulative) who were positive for COVID-19 have been discharged.
532 inpatients (cumulative) who were positive for COVID-19 have died at DCH. This is not an indication of the cause of death, only that the individuals were positive for COVID-19 at the time of death.
277 Tuscaloosa County residents (cumulative) who were positive for COVID-19 have died (per the Alabama Department of Public Health).