Coronavirus Update and Health System Preparations - 5/7
Testing and Confirmed Cases
To protect patient privacy, DCH has established a minimum threshold of five for reporting numbers of inpatients with laboratory-confirmed cases of COVID-19.
DCH internal counts as of 4:20 p.m. on 5/7/20:
34 inpatients are being treated for COVID-19.

14 inpatients who are positive for COVID-19 are being treated in the ICU.

Seven who are positive for COVID-19 are on ventilators.

295 (cumulative) have tested positive for COVID-19 including individuals from the ED, triage tent and inpatient. These individuals are not necessarily in the hospital.

4,467 (cumulative) have tested negative at DCH sites.

60 inpatients (cumulative) who were positive for COVID-19 have been discharged.

13 inpatients (cumulative) who were positive for COVID-19 have died at DCH.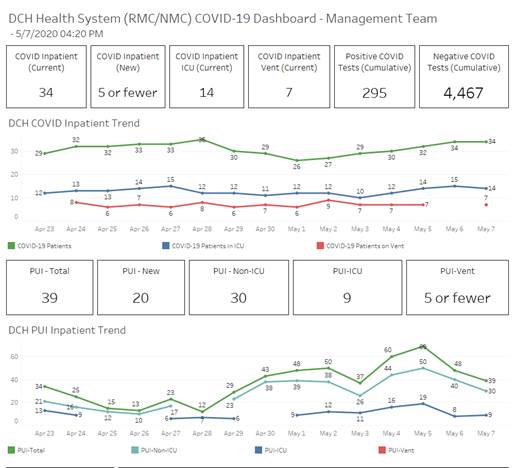 The chart showing the percent positive among those tested at DCH locations has been undergoing some back end maintenance. It will be posted again with tomorrow's update.
Screening Weekend Hours
DCH's remote screening site just west of its Regional Medical Center has had very low volumes on Saturdays. This past Saturday only nine specimens were collected for testing. Because of this, the screening site will be closed this Saturday and Sunday. Next week the service will be available Monday, Wednesday and Friday from 8 a.m. – 2 p.m. If volumes go back up, then adjustments will be made to accommodate the need.
Visitation Policy Revision
The Safer at Home Order issued by the state remains in effect until at least May 15, which means DCH's limited visitation policy remains in force with only a slight modification. Now a healthy parent or guardian can accompany a pediatric patient, 18 years old or younger.
You can view the state's order at https://governor.alabama.gov/assets/2020/04/Safer-At-Home-Order-Signed-4.28.20.pdf. Sections 11 and 12 specify requirements for hospitals. Below is DCH's updated temporary visitation policy.
Fayette Medical Center's Nursing Home is still closed to all visitors. Patients should not leave their care area to go outside to visit with others. Within the guidelines provided by the state, DCH is updating its temporary visitation policy as follows for all of its campuses:
One visitor per outpatient cancer treatment patient for the initial consultation only.

One visitor per outpatient cancer treatment patient for treatment (only if the patient is insufficiently healthy or not mobile enough to proceed without assistance; otherwise, no visitors).

One visitor per maternity patient.

One visitor per NICU patient.

One parent/guardian can accompany a pediatric (18 or younger) patient.

One visitor per patient for end-of-life events.

One private sitter per patient if the sitter is deemed to be truly needed to contribute to the patient's care.

Any visitor must be screened and found to be healthy and at least 16 years old.

No visitors for procedures (cardiac cath., endoscopy, emergency/urgent surgery, etc.). A designated point of contact should be provided, by the family, and placed on the chart. This is in case the nurses or the physician need to contact someone during the procedure or share an update following a procedure. The perioperative staff will reach out to the point of contact to arrange a pickup or for other details.

No other visitors will be allowed.
Calls or video chats should be used for situations such as visits or family/caregiver education.