Coronavirus Update and Health System Preparations - 5/5
Testing and Confirmed Cases
To protect patient privacy, DCH has established a minimum threshold of five for reporting numbers of inpatients with laboratory-confirmed cases of COVID-19.
DCH internal counts as of 1:20 p.m. on 5/5/20:
32 inpatients are being treated for COVID-19.

14 inpatients who are positive for COVID-19 are being treated in the ICU.

Six who are positive for COVID-19 are on ventilators.

273 (cumulative) have tested positive for COVID-19 including individuals from the ED, triage tent and inpatient. These individuals are not necessarily in the hospital.

4,173 (cumulative) have tested negative at DCH sites.

57 inpatients (cumulative) who were positive for COVID-19 have been discharged.

13 inpatients (cumulative) who were positive for COVID-19 have died at DCH.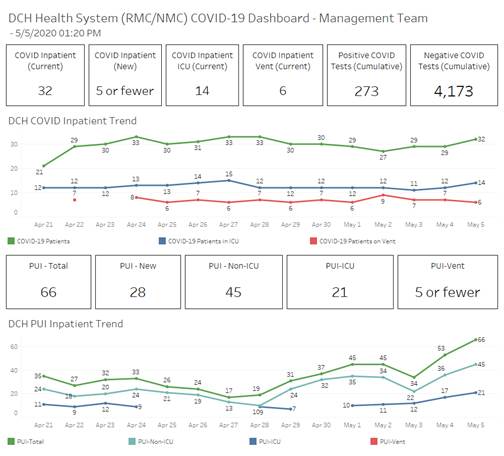 Nurses Week and Hospital Week
Every year in May, DCH celebrates the hard work of staff in serving our patients through two special weeks. With everyone pulling together during the COVID-19 outbreak, marking these weeks seems even more appropriate.
Normally DCH would celebrate in a variety of ways including group events but under the current circumstances some of that is not possible. So, with the help of a generous donation from Paragon HM Wealth Management Group at Morgan Stanley, DCH will be handing out pre-packaged ice cream to employees at all three DCH campuses tomorrow and recognition efforts are being planned for a week in October. DCH appreciates its employees for all they do every day!
If you know any healthcare workers, now might be a good time to reach out and let them know how much you appreciate them. National Nurses Week is May 6-12, and National Hospital Week is May 10-16.

187th Fighter Wing Conducts Flyover of DCH
The 187th Fighter Wing conducted a flyover of DCH Regional Medical Center earlier today. The flyover was part of "Operation Air Force Salutes" which is designed to recognize frontline heroes in the hospitals who are treating patients with COVID-19. For those who missed it, a short video is included with today's update.