Coronavirus Update and Health System Preparations - 5/27
Testing and Confirmed Cases
To protect patient privacy, DCH has established a minimum threshold of five for reporting numbers of inpatients with laboratory-confirmed cases of COVID-19.
DCH internal counts as of 4:20 p.m. on 5/27/20:
85 inpatients are being treated for COVID-19.

25 inpatients who are positive for COVID-19 are being treated in the ICU.

12 who are positive for COVID-19 are on ventilators.

586 (cumulative) have tested positive for COVID-19 including individuals from the ED, triage tent and inpatient. These individuals are not necessarily in the hospital.

6,824 (cumulative) have tested negative at DCH sites.

107 inpatients (cumulative) who were positive for COVID-19 have been discharged.

30 inpatients (cumulative) who were positive for COVID-19 have died at DCH.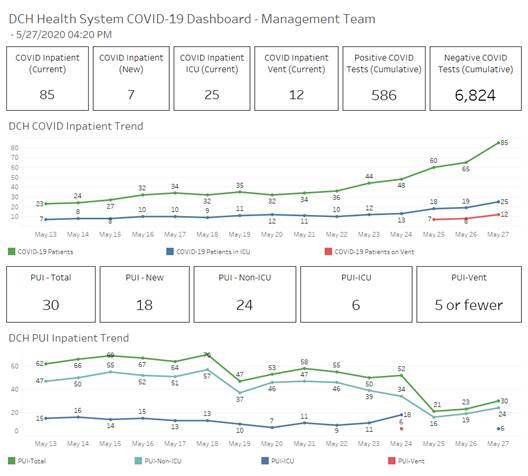 Also included is a chart showing the percent positive among those tested at DCH locations. This chart reflects totals by the end of each day (except today).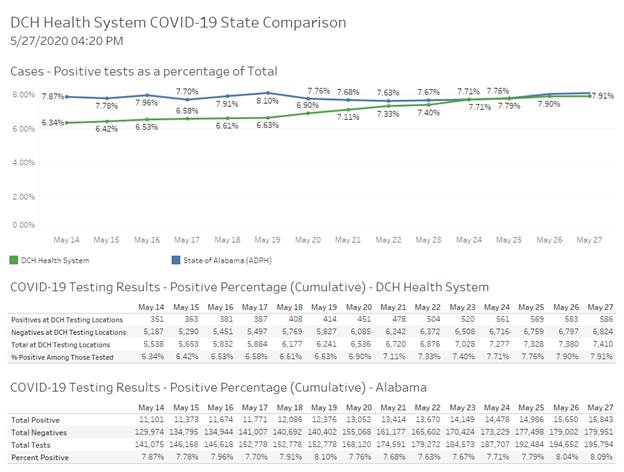 Demographics
Included today are some details on the DCH COVID-19 population over time, with charts for gender, age and race.
For each chart the red indicates the number who were positive with COVID-19 at the time of death. Blue indicates individuals who have recovered enough to be discharged, and gray indicates those who are still being cared for. The good news in all of these charts is there is a lot of blue, meaning many are recovering.
As has been reported elsewhere, the 65+ population has been most impacted.
More COVID-19 positive women have been hospitalized, but because of the higher total their death rate is about 12 percent vs. men at 16 percent. Discharges are about 50 percent for women and 48 percent for men. Current hospitalizations of COVID-19 positive patients are about 38 percent for women and 36 percent for men, so the results are very similar despite the visual difference.
The recovery rate for the white population is currently about 46 percent and for the black population, it is 48 percent. The bigger discrepancy is in the death rate. Right now about 9 percent of white individuals treated for COVID-19 have died. Among black individuals that rate is currently about 16 percent.
These charts will be included from time to time, especially if there are significant changes. We are also looking at additional demographics that we might provide in the near future.