Coronavirus Update and Health System Preparations - 5/20
Testing and Confirmed Cases
To protect patient privacy, DCH has established a minimum threshold of five for reporting numbers of inpatients with laboratory-confirmed cases of COVID-19.
DCH internal counts as of 3:20 p.m. on 5/20/20:
34 inpatients are being treated for COVID-19.

10 inpatients who are positive for COVID-19 are being treated in the ICU.

Five or fewer who are positive for COVID-19 are on ventilators.

428 (cumulative) have tested positive for COVID-19 including individuals from the ED, triage tent and inpatient. These individuals are not necessarily in the hospital.

5,905 (cumulative) have tested negative at DCH sites.

97 inpatients (cumulative) who were positive for COVID-19 have been discharged.

24 inpatients (cumulative) who were positive for COVID-19 have died at DCH.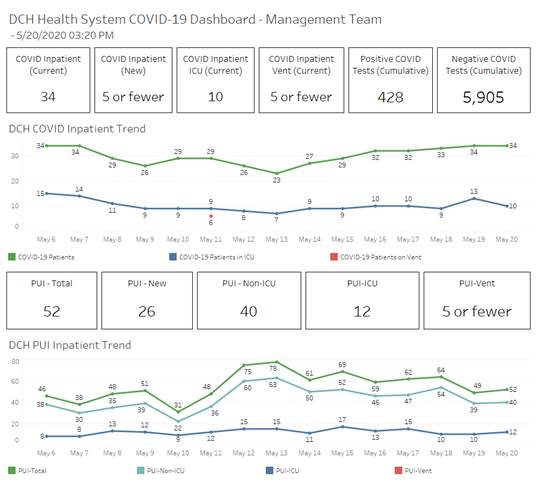 Also included is a chart showing the percent positive among those tested at DCH locations. This chart reflects totals by the end of each day (except today).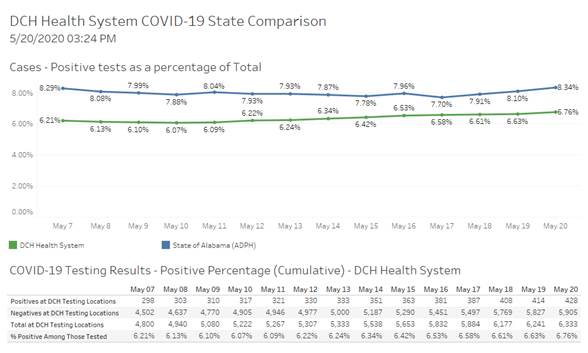 Revised Screening Site Hours
DCH has closely monitored the number of individuals who have come for COVID-19 screening and testing at its remote site in the Laundry Lot just west of DCH Regional Medical Center. The volume was on a gradual decline, so hours at the site had been reduced. However, in the past few days, the numbers have gone from 50-60 a day to closer to 150 per day.
Because of this increased need, DCH will expand its screening service hours after Memorial Day to be open every weekday. At this time the site will remain closed on weekends, but if the demand continues to increase, that may be modified.
Next week the site will be closed on Monday for Memorial Day (May 25), but will be open Tuesday through Friday, 7 a.m. – 11 a.m. The following week, and for the foreseeable future, the site will be open Monday through Friday, 7 a.m. – 11 a.m.
The most up-to-date hours of operation for the remote screening site will be maintained at www.dchsystem.com/remotescreening.