Going Home: Two Discharged COVID-19 Patients Share Their Stories
Two formerly positive COVID-19 patients were recently discharged from the DCH Rehab Pavilion at Northport Medical Center, and they agreed to share their stories.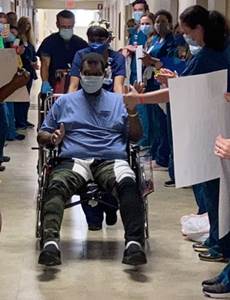 Michael Long (pictured with Northport staff in a hallway) tested positive for COVID-19 and was admitted to the hospital on May 6. After a long battle with the disease, he finally received two negative test results. This milestone started him on the next phase of his recovery­—working with the physical therapy team at the DCH Rehab Pavilion.
Long, who is in his 40s, was barely able to stand up and could only take a couple of steps with a rolling walker when he arrived. The staff said he was determined to get better and gave 110 percent during his entire rehab stay. He can now walk on his own.
On Thursday, June 25 the DCH team gathered with signs and offered well wishes and cheers to their new friend. Michael Long was finally heading home.

Gordon Tilley's (pictured being wheeled to his car) journey started even earlier. Tilley has been fighting COVID-19 since March 29. After an extended battle in the ICU, Tilley was taken off a ventilator on May 6 and made his way to the DCH Rehab Pavilion on May 28.
At first, Tilley needed two people to assist him with sitting on the edge of the bed. He could only sit for minutes at a time and needed help with all the self-care basics. But as he got better he had a goal: celebrating his birthday at home with his family.
Tilley progressed through rehab from sitting, to standing, to walking and finally to climbing stairs and fully caring for himself. This coming Tuesday is Gordon Tilley's 80th birthday. After an 87-day stay at DCH, he too received a fond farewell from his care team. Happy (early) Birthday, Mr. Tilley, and thank you to all the teams at Northport that contributed to these positive outcomes.