Coronavirus Update and Health System Preparations - 4/13
Testing and Confirmed Cases
To protect patient privacy, we have established a minimum threshold of five for reporting numbers of inpatients with laboratory-confirmed cases of COVID-19.
DCH internal counts as of noon on 4/13/20:
8 inpatients are being treated for COVID-19.

Five or fewer inpatients who are positive for COVID-19 are being treated in the ICU.

Five or fewer inpatients who are positive for COVID-19 are on ventilators.

119 (cumulative) have tested positive for COVID-19 including individuals from the ED, triage tent and inpatient. These individuals are not necessarily in the hospital.

2,585 (cumulative) have tested negative at DCH sites.










Left Hand Soap Company
Like masks and nasal swabs, hand sanitizer has become increasingly hard to come by, and DCH has been using a lot of it. DCH's normal suppliers are saying they cannot get hand sanitizer any time soon, so we started looking at local options.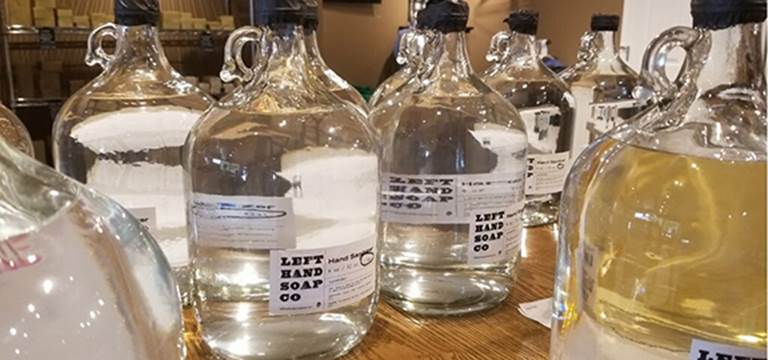 Tuscaloosa's own Left Hand Soap Company temporarily closed its in-person store starting March 17 but the business has continued to fill orders online. DCH contacted them about sourcing hand sanitizer, and the small local business has come through in a big way. They were able to supply 400 gallons for DCH to purchase! In addition, plastic bottles are in short supply so they worked with Piper & Leaf Tea Co. in Huntsville to source glass bottles for their retail orders (shown in the photo) and provide plastic for DCH.
Left Hand Soap Company, thanks for the assist!
In-house Testing
DCH has been working with the vendor Becton Dickinson the maker of DCH's BD MAX molecular diagnostic testing system to be able to test specimens in-house for the presence of COVID-19. After thorough testing, the equipment can now produce reliable results in eight hours or less.
Unfortunately, supplies that work with the equipment are very limited so in-house testing will initially be used to help facilitate the transfer of patients to lower-acuity facilities. Until now, DCH has been using the Diatherix lab for higher acuity inpatients and will likely continue to do so in situations where supplies continue to be low and patient care will not be negatively impacted by a 36-hour (with specimen transit) result.
For now, LabCorp will continue to be used for lower-acuity cases on non-hospitalized patients. Hopefully the reduced load will help produce increasingly faster turnaround times for these patients as well.
Screening Site Temporarily Closed Due to Damage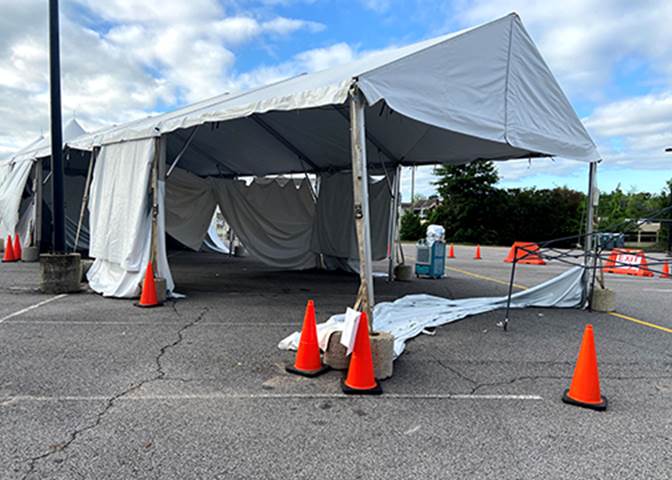 On Sunday evening the strong winds and rain damaged several of the tents at the DCH screening site just west of DCH Regional Medical Center. The smaller tents mostly stayed in place but the roof of one caved in and was dragged several feet. For the large tent, a leg was bent and some of the wall panels were damaged or ripped down.
Because of the damage, the testing site was closed down today (Monday, 4/13) but the DCH team was able to get all repairs completed and supplies and equipment are being set back up now in order to be back up and running tomorrow morning at 8 a.m. As always, if you have severe symptoms please call your doctor or come to the emergency room. DCH will be here for you.
Donated Masks
Mercedes-Benz U.S. International donated 30,000 masks to the Tuscaloosa County EMA last week. Tuscaloosa County EMA distributed the masks to first responders including fire, police and EMS. DCH Health System received 9,000 of the masks. The supplies are now being put to good use and are much appreciated!
4/13/20 The tent being used for DCH COVID-19 screening and testing was damaged in last night's storm and is being repaired. Remote site testing and screening will be delayed until further notice (repairs are complete).