Coronavirus Update and Health System Preparations - 4/22
Testing and Confirmed Cases
To protect patient privacy, we have established a minimum threshold of five for reporting numbers of inpatients with laboratory-confirmed cases of COVID-19.
DCH internal counts as of 1:20 p.m. on 4/22/20:
29 inpatients are being treated for COVID-19.

11 inpatients who are positive for COVID-19 are being treated in the ICU.

Six inpatients who are positive for COVID-19 are on ventilators.

187 (cumulative) have tested positive for COVID-19 including individuals from the ED, triage tent and inpatient. These individuals are not necessarily in the hospital.

3,247 (cumulative) have tested negative at DCH sites.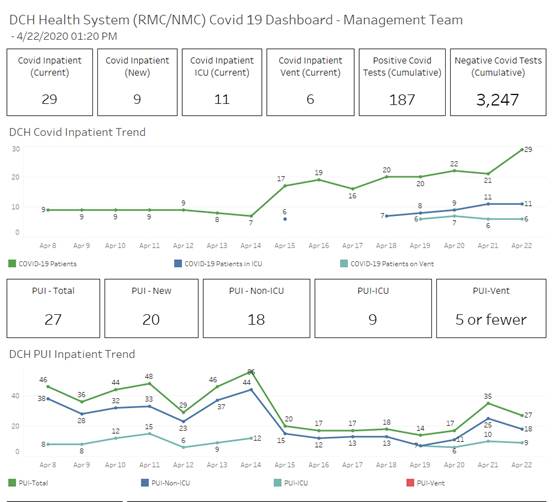 As a reminder, in the dashboard a PUI is a "person under investigation" which means the individual has COVID-19 symptoms but a result has not yet come back.
Total individuals who have tested positive and are needing care jumped substantially in the last 24 hours. Individuals on ventilators held steady but ICU use continues to creep upwards.
The percentage of positives among those who have been tested also continues to climb.

Please don't let up on your efforts, we need to continue to work together to flatten this curve.
Save the Masks!
In these updates, DCH has shared a lot of information on mask needs and uses. This is because we still continue to have difficulty finding commercially made masks. At the moment, we are using about five masks for every one mask we are able to secure.
Community efforts have helped slow the usage rate and we continue to be SO thankful for the support (#DCHmaskmakers you are amazing!).
The CDC has issued guidelines for mask use in circumstances like those we face now. With these guidelines in mind, we ask visitors to bring their own masks or reuse masks. We are also asking our staff members in non-clinical areas to use and reuse homemade masks. Staff members in clinical areas are asked to reuse their commercially made masks until they are damaged or visibly soiled. Please think twice before throwing your mask away.
Signs of Support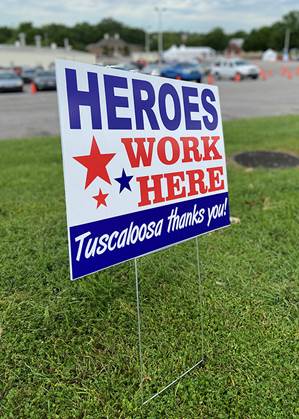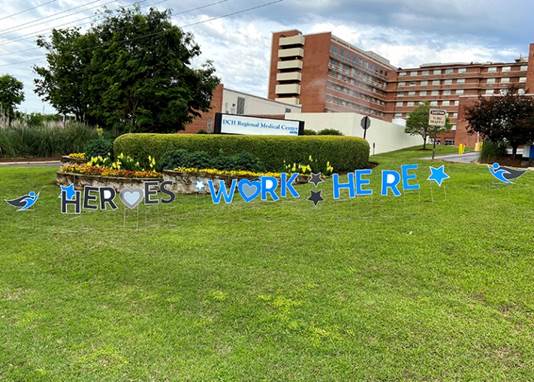 DCH uses a lot of signs. They are in our parking lots, on our buildings, in our hall and in many more places. Signs are not something you may think about until you need them.
Local sign companies have been an integral part of DCH's efforts to battle COVID-19 by rapidly responding to daily changes in needs for directing patients. Lately several companies including TuscaBlue and FastSigns of Tuscaloosa have provided signs recognizing the efforts of those providing care and support for COVID patients. Attached here are a few examples but you will see more if you drive by any of our campuses.
Thank you for the generosity and encouragement!