Coronavirus Update and Health System Preparations - 4/17
Testing and Confirmed Cases
To protect patient privacy, we have established a minimum threshold of five for reporting numbers of inpatients with laboratory-confirmed cases of COVID-19.
DCH internal counts as of 3:20 p.m. on 4/17/20:
16 inpatients are being treated for COVID-19.

Five or fewer inpatients who are positive for COVID-19 are being treated in the ICU.

Five or fewer inpatients who are positive for COVID-19 are on ventilators.

147 (cumulative) have tested positive for COVID-19 including individuals from the ED, triage tent and inpatient. These individuals are not necessarily in the hospital.

2,958 (cumulative) have tested negative at DCH sites.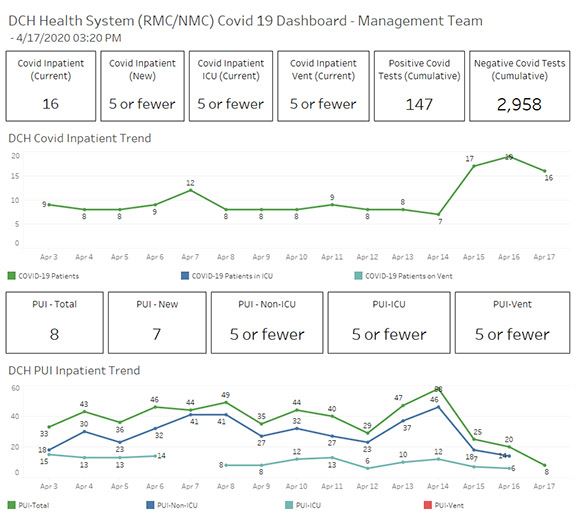 Screening Hours
On March 24, nearly 200 specimens were collected for testing at DCH's remote screening site just west of its Regional Medical Center. More recently, the sample volume on some days has been 40 or less. With this drop in volume, DCH has made the decision to further modify its screening days and hours. The site will be open Monday, Wednesday and Friday from 8 a.m. – 2 p.m. and Saturdays from 8:30 a.m. – noon for now.
We will continue to monitor the community need and adjust accordingly.