Coronavirus Update and Health System Preparations - 4/14
Testing and Confirmed Cases
To protect patient privacy, we have established a minimum threshold of five for reporting numbers of inpatients with laboratory-confirmed cases of COVID-19.
DCH internal counts as of noon on 4/14/20:
7 inpatients are being treated for COVID-19.

Five or fewer inpatients who are positive for COVID-19 are being treated in the ICU.

Five or fewer inpatients who are positive for COVID-19 are on ventilators.

120 (cumulative) have tested positive for COVID-19 including individuals from the ED, triage tent and inpatient. These individuals are not necessarily in the hospital.

2,605 (cumulative) have tested negative at DCH sites.



Roma Enterprises and Masks
Roma Enterprises, an upholstery company and furniture manufacturer in Winfield, AL, has now joined the effort to produce masks made from medical-grade sterilization fabric. The company has dedicated five employees to the project and they are now producing about 100 masks per day.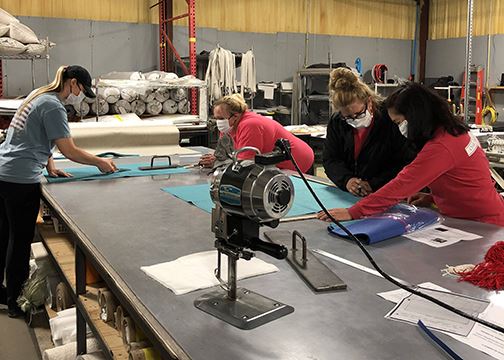 Related to this, we wanted to share a brief update on the numbers. In addition, 30 more individuals have joined the effort so we are up to 280 community members sewing these special masks. Also, more fabric has come in which could allow up to 17,000 total masks to be made. Last Friday the first batch of 750 community-made masks were delivered to DCH materials management to be put into use. As of today another 750 masks have come in making the total 1,500.
DCH sends out a special thank you to Roma Enterprises, Mercedes-Benz US International and all of the individual community volunteers, YOU are OUR heroes!
Feeding the Frontlines
Feeding the Frontlines, a program administered through the DCH Foundation, has now received $110,000 in donations from community members and businesses. Those funds are being used to purchase meals from local restaurants to feed DCH employees as well as community first responders.
To date, nearly every department in all three hospitals has received at least one meal or a meal is scheduled. Over 5,000 meals have been delivered or scheduled for DCH departments. Over 2,000 meals have been delivered or scheduled for first responders.
Your continued generosity to both healthcare workers and local restaurants has been amazing and greatly appreciated.
Teaching Kindness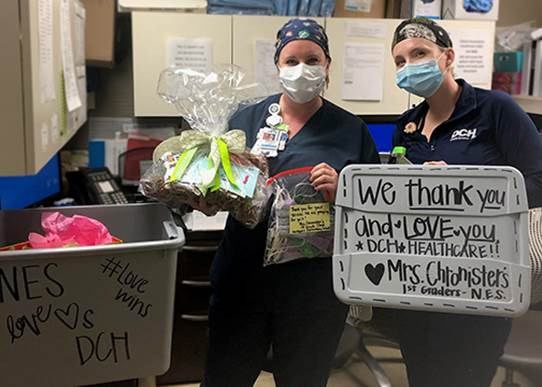 Today the Emergency Department received a gift box from Mrs. Chronister's 1st grade class at Northport Elementary. It included homemade masks, goodie bags and cards of appreciation. The entire emergency department staff sends a big virtual hug to the class for the kind and thoughtful gifts.