Flu, COVID and Health System Masking Update
Update March 8, 2023
Masking Explanation
Masks are currently still required in all DCH facilities. Please see below for additional details.
DCH follows current CDC guidelines regarding COVID-19 Infection Prevention and Control for Healthcare Settings and will update guidance based on currently available information.
When the community transmission levels of COVID-19 are high, facemasks are required in all DCH facilities. This past week Tuscaloosa County's Community Transmission Level moved from high to substantial. Fayette County's Community Transmission Level moved from high to moderate.
https://covid.cdc.gov/covid-data-tracker/#county-view?list_select_state=Alabama&data-type=Risk&list_select_county=1125&null=Risk
When transitioning between community transmission levels, decisions related to masking will be based on CDC guidelines, ADPH guidance, and in consultation with Infection Prevention. Community transmission levels fluctuate, so remaining at a lower level for an extended period will be integral to making any masking requirement changes. DCH will review new information as it becomes available and will communicate changes to employees and the public.
Flu, COVID and Health System Masking Update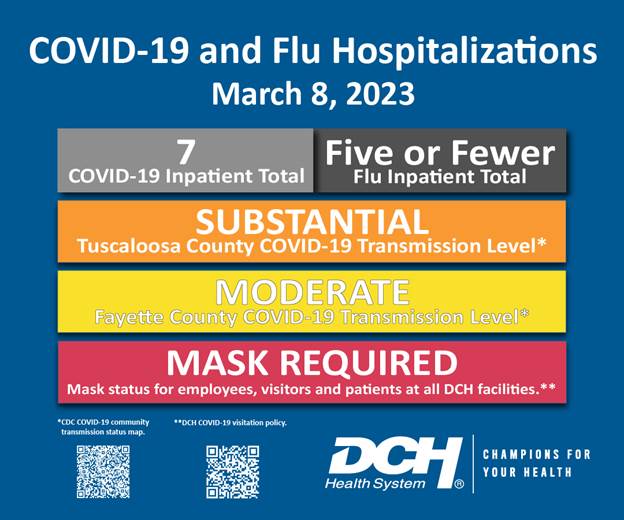 * To protect patient privacy, DCH has established a minimum threshold of five for reporting numbers of inpatients with laboratory-confirmed cases of the flu or COVID-19.