DCH to Offer Media Preview of West Vestibule Entrance
News Release
Contact: Andy North
205-759-7209 Office
601-540-8804 Cell
DCH to Offer Media Preview of West Vestibule Entrance
(Dec. 29, 2022, Tuscaloosa, Ala.) Members of the media are invited to preview the new West Vestibule on Friday, Dec. 30, at 10 a.m.
On Monday, Jan. 2, the South Parking Deck and South Lobby Entrance at DCH Regional Medical Center will close as the construction crew prepares the deck for demolition and replacement.
A new drop-off and temporary entrance, known as the West Vestibule, will open when the current South Lobby Entrance closes. Members of the media are invited to film/photograph the new entry and a spokesperson will be available to answer questions. Additionally, b-roll footage and photographs are available for media use at the link below.
Subject: DCH Regional Medical Center West Vestibule Media Preview
Date: Friday, Dec. 30
Time: 10–11 a.m.
B-roll and Photos:
https://www.dropbox.com/scl/fo/7ouzxeal137exs2dfuves/h?dl=0&rlkey=bgrrbb27np3mxtimvmunhzf7j
Location: DCH Regional Medical Center
809 University Blvd. E.
Park in the new patient and visitor lot just south of the Manderson Cancer Center. The lot is marked with a red X on the attached map.
Please walk to the West Vestibule from there (do not go to the current South Entrance).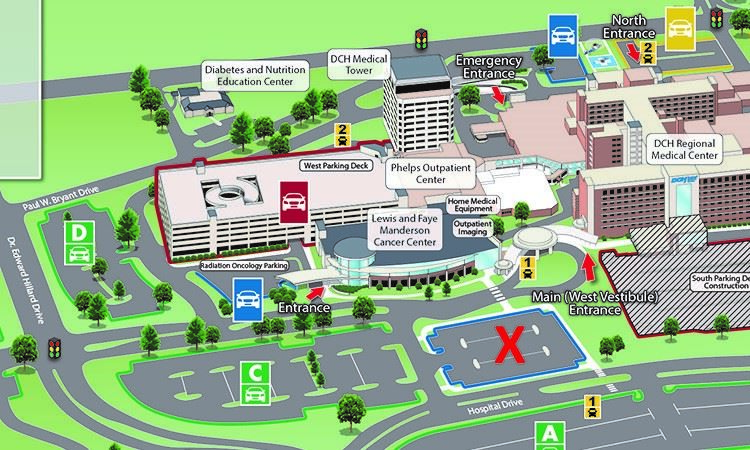 About DCH
DCH Health System is a public, not-for-profit health system located in West Alabama. For nearly 100 years, DCH has provided quality health care to the people of West Alabama. DCH Health System includes DCH Regional Medical Center, Northport Medical Center and Fayette Medical Center. The Lewis and Faye Manderson Cancer Center is located on the DCH Regional Medical Center Campus. For more about DCH, visit www.dchsystem.com.
# # #