DCH Coronavirus Update 3-23-21
Stronger Together
In late 2019 we watched with the world as other countries struggled with the spread of a new virus called COVID-19. Anyone who has worked in health care for a while has seen versions of this happen before including the Zika virus, Swine flu and Ebola. These past events often caused a significant amount of preparation but usually resulted in little local impact.
The spread of COVID-19 in late 2019 initiated similar preparations at DCH, but then things took an unusual and dramatic turn when cases started showing up in the United States. For many at DCH, the moment of realization that this was a much bigger event happened on March 13. That's when the first case of the virus was announced in the state. Just a few days later, on March 16, DCH opened its screening and testing tent in the parking lot just west of DCH Regional Medical Center.
By then DCH had started providing daily employee, physician and community updates. In the days that followed, several people suspected of having the virus were identified in the hospital. On March 26, DCH announced that several inpatients had tested positive.
In the middle of that timeline a significant event happened for one area of the hospital.
"I was notified bright and early on Monday, March 23, that my unit would be designated as the hospital's first COVID-19 unit," said Lawanda Ryans, nurse manager of 5 South. "I honestly don't remember the next few moments. I was later told that at first I just stood there with my mouth open, speechless. At that time we didn't know much about the virus and what it would do to us, our unit and our hospital."
Up to that point we had learned that some of the best courses of action for COVID-19 patients were isolation, negative pressure rooms (not sharing air with other areas) and staff who were educated on how to provide excellent care for COVID patients while protecting their own safety. One of the most efficient and safe ways to do that was to house all COVID-19 positive patients in one area when possible.
"My team leaders were gathering, and I needed to share with them what we had been chosen to do," said Ryans. "They came in here, and we prayed. After that I told them it was going to be hard but we were going to be OK­ – and we have been."
Now, a year later, 5 South is still treating COVID-19 patients. In fact, the total numbers have come down enough that the only non-ICU unit that is still designated for COVID-19 patients is 5 South.
Ryans acknowledged that while 5 South was the first COVID-19 unit, it never stood alone in this battle. Areas across DCH have worked very hard throughout the pandemic, and she hopes we will see her unit's milestone as a celebration of life, courage, tenacity and compassion.
"I really just want to thank the Lord for protecting me and my staff. I want to thank all of the rest of the DCH team for coming together to get through this and serve the community. It has not been easy, but we have become stronger together."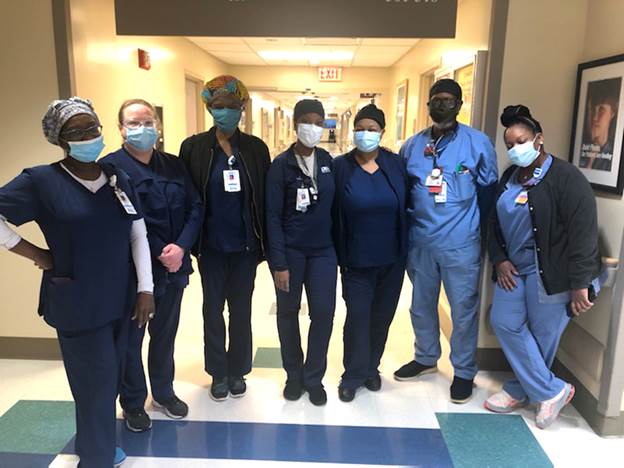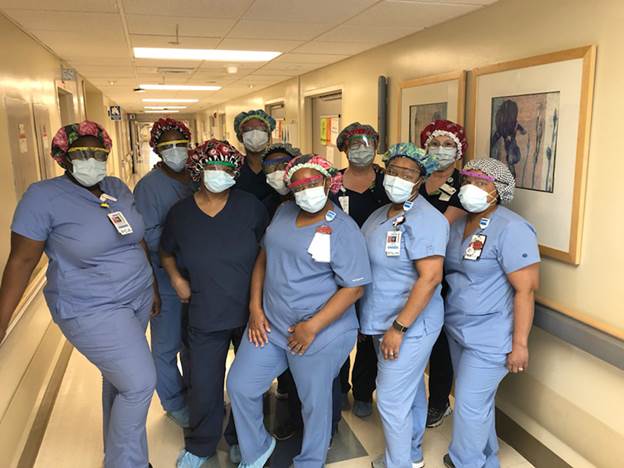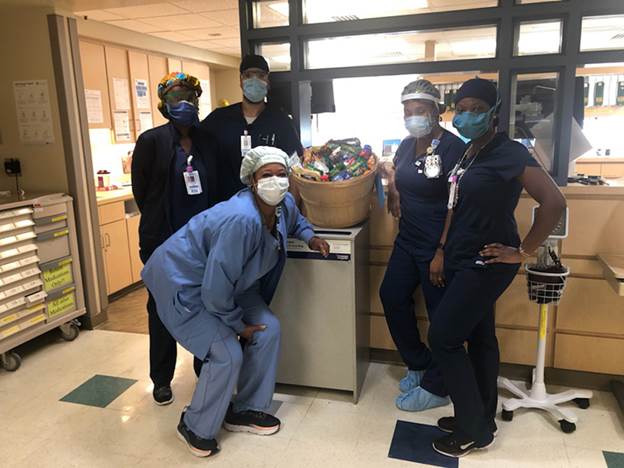 COVID-19 Information
To protect patient privacy, DCH has established a minimum threshold of five for reporting numbers of inpatients with laboratory-confirmed cases of COVID-19.
DCH Health System internal counts as of 3:13 p.m. on 3/23/21:
11 inpatients within the DCH system who are positive for COVID-19.
Five or fewer inpatients who are positive for COVID-19 are being treated in the ICU.
Five or fewer inpatients who are positive for COVID-19 are on ventilators.
Five or fewer who are positive for COVID-19 are on a BiPAP.
8,572 (cumulative) unique positives for COVID-19 tests including results from the ED, triage tent and inpatient. These individuals are not necessarily in the hospital.
39,362 (cumulative) unique negatives for COVID-19 at DCH sites.
10,365 (cumulative) positive COVID-19 at DCH sites. These individuals are not necessarily in the hospital.
73,467 (cumulative) negative tests at DCH sites.
2,996 inpatients (cumulative) who were positive for COVID-19 have been discharged.
543 inpatients (cumulative) who were positive for COVID-19 have died at DCH. This is not an indication of the cause of death, only that the individuals were positive for COVID-19 at the time of death.
299 Tuscaloosa County residents (cumulative) who were positive for COVID-19 have died (per the Alabama Department of Public Health).