Fayette Medical Center Unveils Renovated Walking Track
Category: News
Posted On:
Updating Fayette's Walking Track
In the late '80s, the Georgia Pacific Foundation helped expand Fayette Medical Center's community connectivity when it donated $10,000 for the creation of a walking track behind the hospital. Since then residents of FMC Long Term Care, DCH employees and community members have all regularly used the area for exercise and events.
Now, more than 30 years later, a similar contribution has led to the walking track's revitalization.
The company OptumRx, which administers DCH's employee prescription drug program, contributed a $60,000 grant to DCH for community health-related projects. Much of that funding has been dedicated to the Fayette walking track project.
Here are some of the improvements:
The track and adjoining sidewalks have all been replaced and widened to 5 feet.
The fence around the track was repaired.
Permanent power was run to the pavilion.
In the pavilion, the roof has been replaced, lights have been replaced and ceiling fans have been added.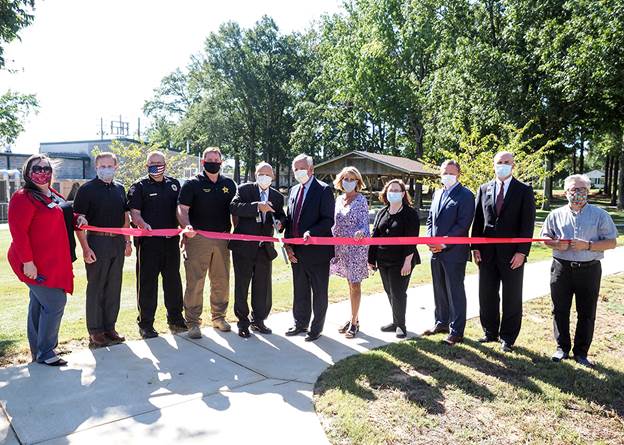 A small group of DCH employees and community leaders gathered to commemorate the reopening of the track. On hand to speak were Bryan Kindred, DCH president/CEO, Mike Freeman, Fayette probate Judge, and Donald Jones, Fayette Medical Center administrator. Finally, Danny White from the Fayette Area Chamber of Commerce led the group in a ribbon cutting to signify the grand reopening of the track and its facilities.
DCH expresses its sincerest gratitude to OptumRx for making this community health project possible for all those who visit or live in Fayette