Supplying the System: DCH Supply Chain Team Meets Pandemic's PPE Challenges Head On
Supplying the System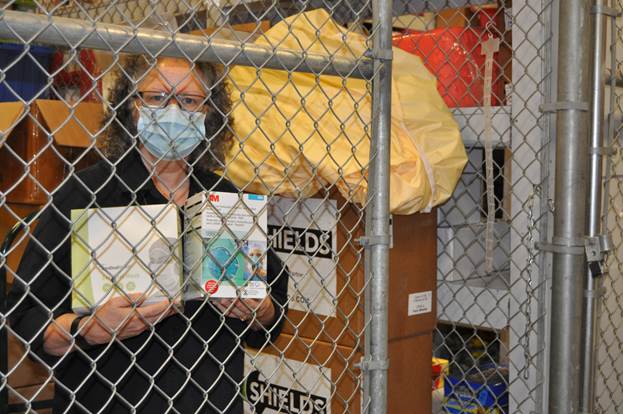 DCH Supply Chain Director Dave Ryan and Value Analysis Coordinator Nan Grottanelli are giving a peek inside what's affectionately known as Nan's Cage.
Nan Grottanelli stands in her namesake Nan's Cage in the Supply Chain warehouse at DCH Regional Medical Center. She is holding N95 and surgical face masks.
The fenced and locked area stores high-demand medical items in the Supply Chain warehouse at DCH Regional Medical Center. This is the home of critical COVID-19 supplies like isolation gowns, surgical masks and N95 masks.
Grottanelli protects the area as if it houses the Hope diamond. But the reason is logical. The current medical supply chain has been upended due to the coronavirus. The DCH Supply Chain team must maintain adequate PPE supplies and ensure all patient units get what they need to be safe.
The global supply chain for PPE is "completely broken down and fragmented," Ryan said.
DCH's regular supplier for medical items is Cardinal Health. But some of the manufacturers that supply Cardinal are located in Wuhan, China, the epicenter for the coronavirus outbreak. Due to staffing issues, these manufacturers cut their production and also saved PPE for their country's own use. In addition, transporting supplies from China has been difficult, Ryan explained.
Before the pandemic, a one-time use isolation gown cost less than 30 cents each. Today, they can range from $4 to $5 each.
A reusable isolation gown currently costs $9 each. But DCH recently found some made by a U.S. manufacturer. These cost significantly more – $15 each.
Still, Ryan said, this is the better deal considering that nearly 4,000 isolation gowns are used per day between DCH Regional Medical Center and Northport Medical Center. A trial run of these U.S.-made washable gowns will start soon.
As for surgical masks, the per-unit cost was around 5 cents. Now the market is ranging from 65 cents to $1.50 each.
To see this impact, consider that during the pandemic, DCH has purchased 100,000 surgical masks in order to shore up supplies. It had to use a different supplier than its usual one – a total cost of $88,000 vs. the usual $5,000.
On top of that, new suppliers are popping up like spring weeds across the world, many demanding cash up front. And when supplies arrive, they are often subpar and misleading as to their country of origin, Ryan said. "I can't tell you how many rabbit trails we've been down [in the search for quality supplies]," he said.
During the tour of Nan's Cage, Ryan pointed out a box of hazmat gear. He reached into the box and pulled out a package. It indicated it was from Alabama, then he noted a Midwestern address farther down. But finally, he looked at the box the gear came in: "Made in China."
The proliferation of these new suppliers has made the DCH Supply Chain team's job much more difficult, said Stephanie Shults, Supply Chain sourcing and contracting manager. For example, a supplier may tout a mask as being suitable for surgery when all it does is filter dust. "You really have no idea if it's legit or that you will even get the product [once it's ordered]. It's been very time-consuming," Shults said.
"Necessity is the mother of invention."
This old proverb could have been written for the DCH Supply Chain's efforts during the pandemic. When you have a need, sometimes you have to get creative, and be persistent, to meet that need.
Here are a few examples.
Ryan and team have learned a lot about surgical mask materials. He found a Pennsylvania company online that makes the polypropylene inner filtration layer of a three-ply mask. The company required a full truckload order, according to its website. But Ryan filled out the online form anyway, indicating we needed material for only 10,000 masks. But surprise – a shipment of 4,500 linear feet of material suddenly arrived a few days ago, a more than sufficient supply for 10,000 masks. The material, which Ryan said looks like a truck tire size roll of toilet paper, was donated.
The team also learned that Ziploc® containers aren't just for leftovers. Thanks to a video tip, the square plastic containers are being used to store N95 masks after mask use and cleaning. Holes are drilled into the container to allow the mask to air dry after cleaning. These masks are a critical item for direct care of COVID-19 patients, said Ryan, because of their known efficacy at filtering viruses.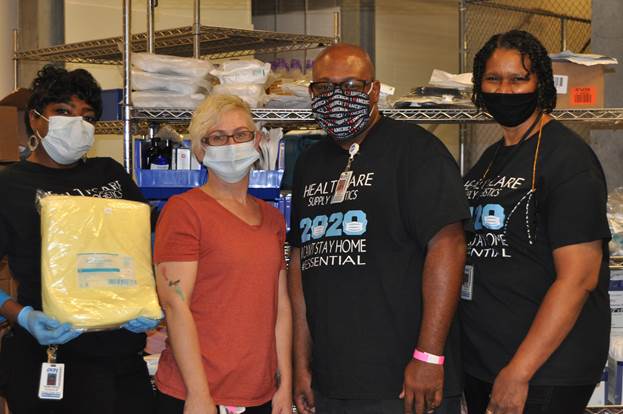 Supply Chain Technicians Temetrice Wilder (holding an isolation gown package), Sherry Sherron, Woody Johnson and Sharon Binion stand near a PAR level cart they are building for a new COVID-19 unit.
Ryan also noted the many contributions from the community that have been mentioned in previous updates. "All of a sudden we had people asking, 'Hey, can you use this?' That's been amazing and has helped us keep going."
While the overall medical supply chain is still struggling, Ryan said that DCH is OK as far as supplies. "[Before COVID-19] we thought we were supply chain experts, but no longer," he and Shults chuckled. "It's a confusing world right now."
Thanks to Nancy Randall in marketing/communication for pulling together the details and writing this story.